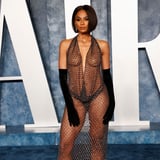 Ciara is no stranger to the naked-dress trend, nor to any groundbreaking red carpet look for that matter. So it shouldn't come as a surprise that she wore a sheer, sparkling netted Dundas dress to the 2023 Vanity Fair Oscars party. Immediately following her walk down the red carpet with husband Russell Wilson on Sunday, March 12, the 37-year-old mom of three faced backlash from people on the internet who discussed whether her attire was appropriate. Ciara's response? A TikTok posted to her feed on Thursday, March 16, set to the sound of paparazzi calling upon a Hollywood star posing for the cameras.
Ciara laughs and struts, wearing a modest, floor-sweeping white sheet with a pair of black skinny rectangular sunglasses and minimal makeup. And her bob is styled in just the same way it was when she wore her plunging halter gown after the Oscars. The tent dress was the perfect way to poke fun at critics of her sheer gown - and needless to say, she looked great in both scenarios.
POPSUGAR writer Natasha Marsh points to the way in which Black women's clothing choices are open to public scrutiny, while highlighting the very real fact that many other women that evening - Daisy Edgar-Jones, Hunter Schafer, and Charlotte Lawrence, to name a few - arrived in outfits just as skin-revealing. "Black women's clothing decisions always come with an unfair caveat: great for the wearer but open to public scrutiny," she writes. "We decide to wear formfitting clothes and are compared to video vixens. We make out-of-the-box fashion decisions and are told to dim our light. And in Ciara's case, revealing, showstopping statements are labeled as risqué or inappropriate. Anything Black women do is political - including fashion. And it's exhausting."
Ciara looked just as gorgeous in a see-through dress at the Dundas show during Paris Fashion Week earlier in the month, and she went for the no-pants look in a multi-cutout Celine sweater at Roger Vivier's press event. And the aforementioned looks are only a handful of the many the musician has pulled off that are simply considered "on-trend" in our book. Now, with Ciara's influence and iconicity, she just may make sheet dresses the next big thing. How would the naysayers react to that?
Ahead, see Ciara's Vanity Fair Dundas ensemble, then re-watch her TikTok after the jump.