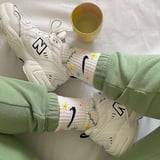 Everyone could use a pair of fresh sneakers for fall. It can be hard to choose cool kicks, so we rounded up the best options for you from
Amazon Fashion. There are so many playful textiles, colors, and embellishments that there's truly something for every style.
I'm the kind of girl who believes you can never have too many shoes, so it was my joy to sift through the retailer's impressive selection. Whether you want a pair of affordable bestsellers or some tried-and-true Nikes, I've found something for every budget. With a shopping guide this good, you'll start to wonder why you ever wore heels in the first place.